Computer Science: Assembly Language for x86 Processors
VS 2017 [C++]
Integer_Expression_Calculation
Using the AddTwo program from Section 3.2 as a reference, write a program that calculates the expression Res = (A + B) – (C + D), using registers and variables.
Several steps are suggested:
1. In the data segment, define variables ordered by: varA, varB, varC, varD, and Res with some integers initialized
2. In the code segment
– calculate (A + B) – (C + D)
– save the result in Res
You can copy the following to fill the blanks with your implementations. Please do not use more than six instructions.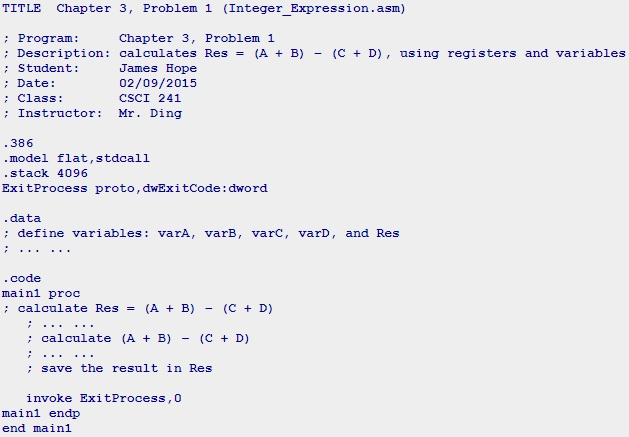 When finished, test your program in debugger. If you define DWORD varA as 10, varB 20, varC 30, and varD 40, Res should be -40. From your VS memory windows, when you enter &varA, the result would be like this:

where 0a 00 00 00 means 10, 14 00 00 00 is 20, 1e 00 00 00 is 30, 28 00 00 00 is 40, and d8 ff ff ff is -40
TITLE Chapter 3, Problem 1 (Integer Expression.asm) : Program: ; Description: calculates Res : Student: : Date: : Class: Chapter 3, Problem 1 (A+ B) – (C +D), using registers and variables uames Hope 02/09/2015 CSCI 241 Instructor: Mr. Ding .386 model flat,stdcall stack 4096 ExitProcess proto, dwExitcode: dword .data : define variables varA, varB, varC, varD, and Res . code inl proc ; calculate Res (A + B) – (C + D) : calculate (A B)(C D) ; save the result in Res invoke ExitProcess,O mainl endp end mainl