On March 10, 2017, Nash Company sold to Barr Hardware 160 tool sets at a price of $50 each (cost $30 per set) with terms of n/60, f.o.b. shipping point. Nash allows Barr to return any unused tool sets within 60 days of purchase. Nash estimates that (1) 10 sets will be returned, (2) the cost of recovering the products will be immaterial, and (3) the returned tools sets can be resold at a profit. On March 25, 2017, Barr returned 7 tool sets and received a credit to its account.
a) Prepare journal entries for Nash to record (1) the sale on March 10, 2017, (2) the return on March 25, 2017, and (3) any adjusting entries required on March 31, 2017 (when Nash prepares financial statements). Nash believes the original estimate of returns is correct.
b) Indicate the income statement and balance sheet reporting by Nash at March 31, 2017, of the information related to the Barr sales transaction.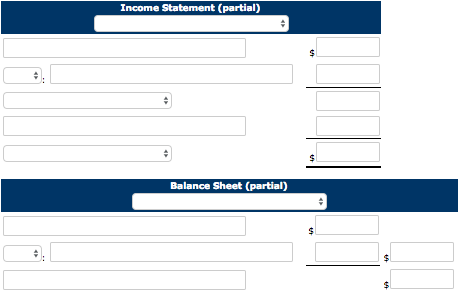 Income Statement (partial) Balance Sheet (partial)