Indigo Corporation has one temporary difference at the end of 2017 that will reverse and cause taxable amounts of $57,200 in 2018, $62,600 in 2019, and $67,800 in 2020. Indigo's pretax financial income for 2017 is $298,500, and the tax rate is 30% for all years. There are no deferred taxes at the beginning of 2017.
a) Compute taxable income and income taxes payable for 2017.
Tax income $_____
Income Tax Payable $_____
b) Prepare the journal entry to record income tax expense, deferred income taxes, and income taxes payable for 2017.
c) Prepare the income tax expense section of the income statement for 2017, beginning with the line "Income before income taxes.".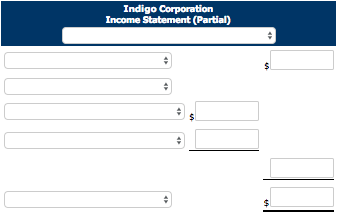 Indigo Corporation Income Statement (Partlal)