Operations Strategy.
Read the attached article entitled "Comparing Success at Kmart and Wal-mart."
a. What is the key to Wal-Mart's success to date? Highlight the strategic role of operations in this success story.
b. In March 2005, Kmart and Sears merged to form the Sears Holdings Corporation, the nation's third largest broadline retailer, with approximately $55 billion in annual revenues, and with approximately 3,800 full-line and specialty retail stores in the United States and Canada. To better compete with Walmart, name two recommendations that the Sears Holding Corporation might consider for its operations strategy.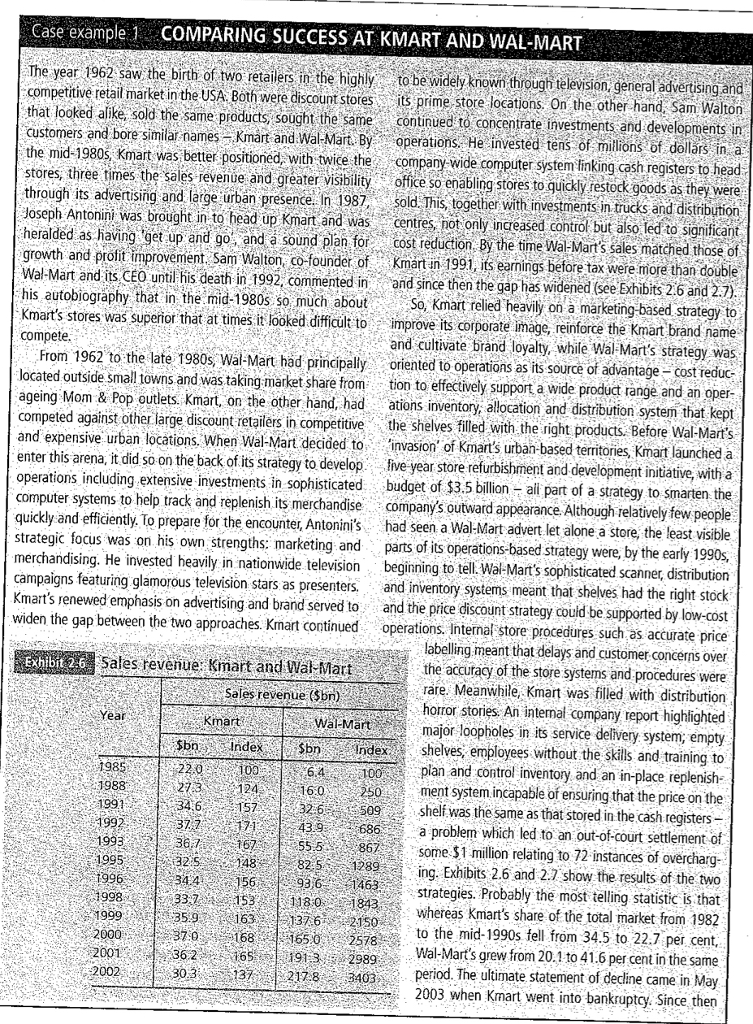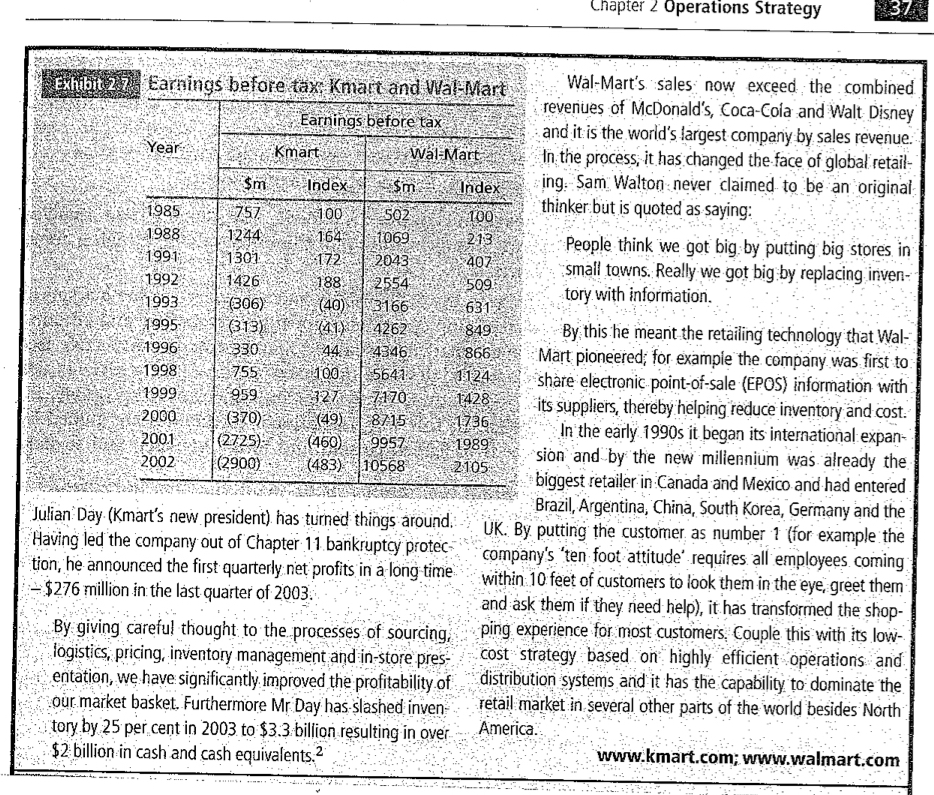 Case example 1 COMPARING SUCCESS AT KMART AND WAL-MART The year 1962 saw the brth of two letais thhigiy to be widely own gnealaivertising and competitive retail ket intUSA Both were discount stores its prime store locations On the other hand Sam Walto televi alike sold the same products, sought the same contnued to conentrate Investments and developments in customers and bore similai names Kmair and Wa-Mart By operations He invested tens of milions of dollars in a the mid-1980s Kmart was better positioned with twice the company wide computer sstem inking cash registers to head stores, three times the sales revenue and greater visibility offce so enabling stores to auicky rest through its advertisiig and lerge urban presence. In 1987,old This together with ine Joseph Antonin was brought in to head up Kmart and heralded as having get up and go, a an for. cost reducton. By the tine Wa-Marts sales matched those of growth and profit improvement. Sami Walton, co-founder of Kmart un 1991, is eanings before tax were imore than double Wal-Mart and is CEO until his death in 1992 commented in and since then the gap has wid his autobiography that in the mid-1980s s0 much aboutS Kmarts stores was superior that at times it lookcorporate image, reinforce the Kmart brand name ock goods as they were old. his tether with investments in trucks and distribution wascentres not orly Increased contol but also ied to signican cost red Exhibits 2.6 and 2.7) So, Kmart relied heavily on à marketing-based strategy to and cultivate brand loyalty, while Wal Mart's strategy was From 1962 10 the late 1980s Wal-Mart had principally located outside small towns and was taking market share from tion to effect ageing Mom & Pop outlets. Kmart, on the other hand had competed against other large discount retailers in competitive oriented to operations as its source of advantage cost red ively support a wide product range and an oper ations inventory allocation and distribution system that kept e shelves tilled with the right products. Before Wal-Mart's ensive urban locations. When Wal-Mart decided to invasion of Kmart's urban based territories, Kmart launched à nd nter this arena, t did so on the back of its strategy to develop five year store refurbishment and development initiative, with a opera computer systems to help track and replenish its merchandi quickly and efficenty. To prepare luding extensive investments in sophisticated budget of S3.5 bilion all part of a strategy to smarten the se are for the encounter, Antonini's s on his own strengths: marketing and company's outward appearance.Although relatively few people had seen a Wal-Mart advert let alone a store, the least visible parts of its operations-based strategy were, by the early 199 encounter, Antoni ategic focus wa merchandising. He invested heavily in nationwide television beginning to tell Wal-Mart's sophisticated scannet di campaigns featuring glamorous television stars as presenters and in Kmarts renewed emphasis on advertising and brand served to and the price di widen the gap between the two approaches Kinart continued operations, Internal store proce inventory systems meant that shelves had the right stock discount strategy could be supported by low-cost dures such as accurate price labelling meant that delays and customer concerns over the accuracy of the store systems and procedures were rare. Meanwhile, Kmart was filled with distribution horror stories An internal company report highlighted major loopholes in its service delivery system, empty lves, employees without the skills and training to 100-t plan and control inventory and an in-place replenish- ment system incapable of ensuring that the price on the 6Sales revenue Kmart and Wal-Mart Sales evenue Sbn. .0 199 34 509 helf was the same as that stored in the cash registers 686′ a problem which led to an out-of-court settlement of some $1 millon relating to 72 instances of overcharg Exhibits 2.6 and 2.7 show the results of the two 34156361463strategies. Probably the most telling statistic is that 332 di 53 118 e 1813 whereas Kmart's share of thetotal market from 1982 1993 867 ing g. to the mid-1990s fell from 34.5 to 22.7 per cent Wal-Mart's grew from 20.1 to 41.6 per cent in the same period. The ultimate statement of decline came in May 2003 when Kmart went into bankruptcy Since then 2000370 362161912989 3033721283403