Please create a Trial Balance sheet using the unadjusted trial balance, adjusting entries, and adjusted trial balance columns based on the information provided below. The company started with $7000 cash. Please explain step by step to better understand the answer.
Additional Info for adjusting entries:
-Supplies on hand at the end of the month are $400
-Record one month of insurance expense
-Accrue $100 in wages
-The Dec. 31 balance in unearned revenue is $1000.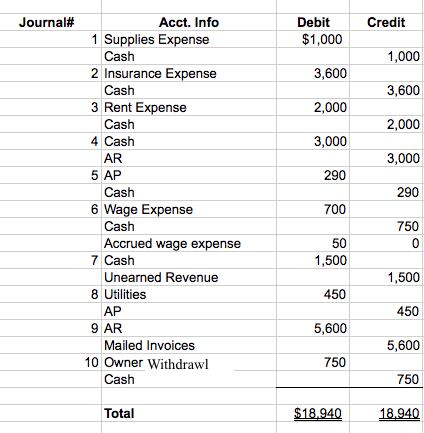 Journal# Acct. Info Debit Credit 1 Supplies Expense 2 Insurance Expense 3 Rent Expense 4 Cash 5 AP 6 Wage Expense $1,000 3,600 2,000 3,000 290 700 1,000 3,600 2,000 3,000 290 750 Cash Cash Cash Cash Cash Accrued wage expense 7 Cash 8 Utilitiess 9 AR 1,500 450 5,600 750 1,500 450 5,600 750 Unearned Revenue Mailed Invoices Cash Total 10 Owner Withdrawl $18940