The management of Madeira Computing is considering the introduction of a wearable electronic device with the functionality of a laptop computer and phone. The fixed cost to launch this new product is $300,000. The variable cost for parts follows a uniform distribution between $160 and $200 per unit. The per unit cost of labor follows a discrete distribution with $40, $43, $47, and $50 having a probability of 10%, 25%, 45%, and 20% respectively. The product will sell for $300 per unit. Demand estimates for the product follow a normal distribution with a mean of 10,000 units and a standard deviation of 5000 units.
a. Construct a 10 iteration simulation to estimate the mean profit for the project.
b. Assuming a variation of 1 standard deviation for normally distributed elements, what is the worst case? Best case?
c. Which equation did you use in your model to estimate parts cost?
d. Substitute the values in the table below for each of the 10 iterations of your model as indicated.
e. With the substituted values, what is the profit estimate for iteration number 4?
f. With the substituted values, what is the probability that Madeira will make a profit?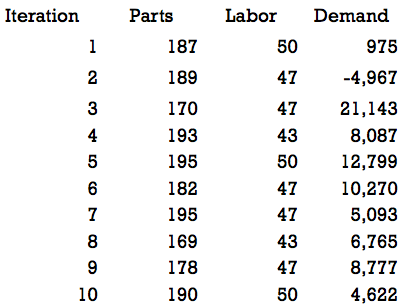 Show transcribed image text